Main Content Starts Here, tab to start navigating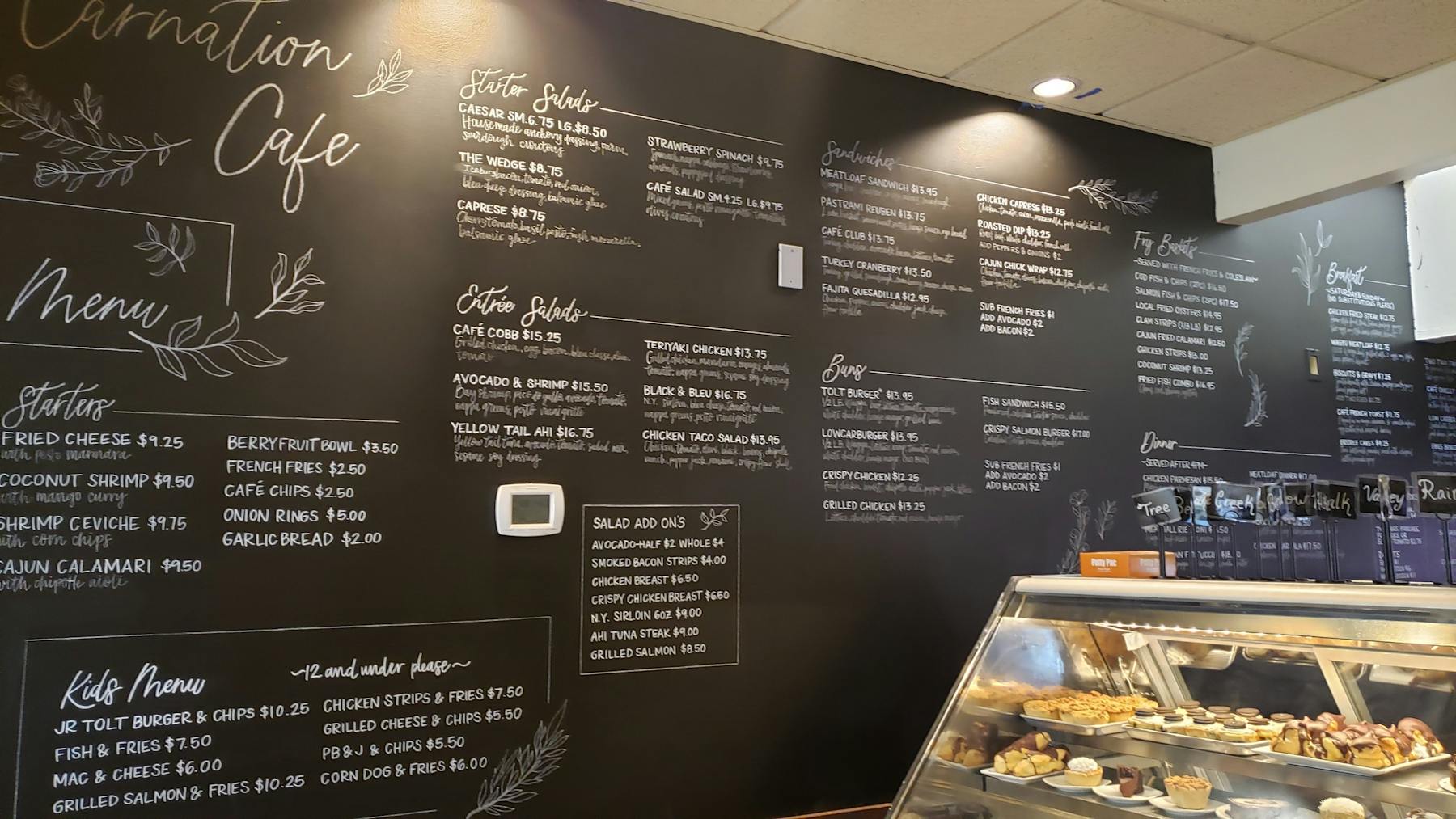 CARNATION CAFE
Slide 1 of 8
Slide 2 of 8
Slide 3 of 8
Slide 4 of 8
Slide 5 of 8
Slide 6 of 8
Slide 7 of 8
Slide 8 of 8
Location & Hours
View at 4760 Tolt Ave,
Carnation, Washington 98014 on Google Maps
Call by phone at 425.333.4304
carnationcafe@hotmail.com
Get Directions

to via Google Maps
AS OF MARCH 2021:
DINING ROOM WILL BE OPEN INSIDE 2ND WEEK IN APRIL.
PATIO DINING AVAILABLE
SAFE & EASY TAKE OUT ORDERING & PICK UP!
BREAKFAST IS SATURDAY & SUNDAY 8:30am-11:15am.
REGULAR HOURS OF OPERATION:
MONDAY & TUESDAY CLOSED
WEDNESDAY 11:30am-7pm
THURSDAY 11:30am-7pm
FRIDAY 11:30am-7:30pm
SATURDAY 8:30am-7pm
SUNDAY 8:30am-3pm
HOLIDAYS MAY HAVE SPECIAL HOURS, PLEASE CALL TO CONFIRM.
FAMILY OWNED & OPERATED!
HUSBAND & WIFE TEAM: CHEF DON LANGHANS & MANAGER HEIDI FISHER
John Fisher-Sous Chef, Tech Support
Sam Fisher-Electrician, Tech Support
Allaura Adams-Dining Room Server
Amanda Fisher-Research/Consultant
Grayson Fisher-Test Kitchen